Martinsville Half Marathon & 5K
Saturday, April 4, 2020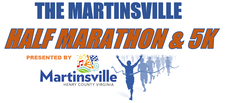 Join Us!

Route Map
We are very excited as we prepare to celebrate the 10th Anniversary running of THE MARTINSVILLE HALF MARATHON & 5K! Race day is scheduled for April 4, 2020. Starting at 8:00 AM near the Martinsville YMCA, runners will enjoy a scenic run through Uptown Martinsville and along the Dick & Willie Passage Trail. The half marathon course is certified by the USATF.

Event participants can choose from a variety of distances, including a 5K race, a 5K walk, and the Half Marathon. Also, the Virtual Run option is back! Sign up for the Virtual Run and run the race course between March 28 and April 4, submit copy of your uploaded GPS time results to brad@martinsvilleymca.com. You will receive all the incredible swag including race shirt, finisher medal and finishers gift! Awards will also be given to top 3 male and top 3 female virtual runners.

This is a family friendly event! Spectators and cheering sections are offered along the way!
For race details visit the FAQ link on this website. We also invite you to follow us for updates and general info at our Facebook page: https://www.facebook.com/MilesInMartinsville

2019 Results
Registration
Race FAQ
The Hugh Gerlach Determination Award
"An award for people who overcome." The Martinsville-Henry County Family YMCA is proud to partner with the Elster Foundation to offer the The Hugh Gerlach Determination Award! This award is the brain child of Doug Goldstein who was diagnosed with colon cancer in 2009 and has undergone numerous surgeries and procedures. Doug, not satisfied with just surviving cancer, was determined to do what he loves... running.
Share your story and inspire others. Each year, Miles in Martinsville will recognize all nominees and pick one overall winner for the The Hugh Gerlach Determination Award. This award is announced during the awards ceremony at the annual Martinsville Half Marathon, 5K & Relay.
Do you have an incredible story to share or do you know someone that has overcome tremendous obstacles? We want to hear the stories of determination and inspiration. We want to hear about your challenges that you have had overcome to be the person you are today.
Inspire others -- share your story!
E-mail your nomination and their story to: brad@martinsvilleymca.com.
The Sheree Poe Memorial 5K Walk
For those who want to be a part of the Martinsville Half Marathon & 5K but choose not to run, we offer the Sheree Poe Memorial 5K Walk. This is a non-competitive event conducted simultaneously with the 5K Run. Walkers will enjoy a morning of exercise, camaraderie, inspiration and post-race celebration along with the runners.
Sheree Poe was the Co-Pastor at Mercy Crossing Church when she passed away unexpectedly in early 2017. Over 275 friends, family and church members honored her by walking and jogging the 5K at the 7th Annual Martinsville Half Marathon & 5K.
Registration fees are the same as the 5K race. If an organization wishes to form a team with 12 or more participants and chooses not to receive the event race shirt, a discounted fee can be offered. Organizations interested in discounted arrangements should contact:
Brad Kinkema @ 276-632-6427 or brad@martinsvilleymca.com
Joe Philpott at 276-252-2011 or braverunner67@gmail.com
Spectator Info
Make the Martinsville Bulletin Half Marathon and 5K the most exciting race around. Come out and cheer runners and walkers on. Click SPECTATOR INFO below to see how you can support this race.
While in Martinsville
Travel
Martinsville is easy to get to -- a mere 60 minutes south of Roanoke and 60 minutes north of Greensboro, both along the 220 corridor; and 30 minutes from Danville on Route 58 West. The race begins at the Martinsville Y, 3 Starling Avenue in the city.
What to Do
There is plenty to keep you busy while spending the weekend in Martinsville and Henry County. From museums, arts, and music to exploring the beauty of the outdoors along trails and rivers, there is something for everyone. Take a look at www.VisitMartinsville.com for local activities, things to do, and places to stay and dine. Be sure to download the free Visit Martinsville travel app to your mobile device. It is available in the Apple App Store and Google Play Store.
Visit Martinsville Speedway. Built in 1947, the track continues 70 years later as a major stop on the NASCAR circuit, hosting the Alpha Energy Solutions 250 truck race - March 23 and the STP 500 Monster Energy Series Cup Race - March 24. More information and tickets available at http://www.martinsvillespeedway.com/
Run, Cheer, Volunteer!
Volunteers Needed and Appreciated
Interested in being a part of the biggest race event in Martinsville without all of the running? Then the answer is clear, just volunteer. Click on our volunteer page and sign up for your preferred job. Bring your friends and join the fun! For more information, please contact Brad Kinkema via phone, 276-632-6427 or email, brad@martinsvilleymca.com.

Contact Information
2018 ALL RESULTS
2017 Results
Virtual Runners are not in the results yet. They will be added Monday.
2016 Updated Results
Tentative results are posted. If you don't see your results (Jenny Smith I need your time) please e-mail me at Brad@martinsvilleymca.com.
JOIN US ON: