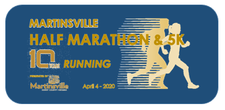 Join Us!

Route Map
2020 MARTINSVILLE HALF MARATHON & 5K ** CANCELLED **
Due to the continuing threat of Coronavirus (COVID-19) and resulting development of protective protocols, Miles in Martinsville announces the CANCELLATION of the 2020 Martinsville Half Marathon & 5K. This action is taken out of concern for our runners, walkers, volunteers and the community. We do not take this decision lightly but with the highly infectious nature of this virus and the necessary isolating direction from governmental and health agencies, we feel that it is the right thing to do.
We have a stated NO REFUND policy for all races, however, we know that our runners and walkers looked forward to race day, as did we. In that light, we are offering several options for registrants.
· VIRTUAL RUN - Registrants have the option to run as a virtual entrant. To exercise this option, registered runner must notify Miles in Martinsville by email at braverunner67@gmail.com, no later than March 25, 2020.
§ The Virtual Run can be run on any course of at least 13.1 or 5K distance respectively to lessen travel requirements. Awards will be mailed to top three Female and Male runners in each race. No age group awards will be given.
§ Virtual participants will receive official race shirt for their respective event.
§ Those who complete the virtual Half Marathon will receive our official Half Marathon finisher medal.
§ Virtual runs must be completed by April 11, 2020 and printout of uploaded data emailed to race director at brad@martinsvilleymca.com, no later than April 13, 2020.
· DEFERRAL/TRANSFER - Registrants will have the option to defer their Half Marathon, 5K and walk entries to 2021 the 2021 Martinsville Half Marathon or to any scheduled 2020 Miles in Martinsville race. Those choosing to defer or transfer registration to another event should notify Miles in Martinsville by email at braverunner67@gmail.com, no later than March 25, 2020, indicating which race you choose for deferral or transfer. Following your notification, you will be mailed a 100% discount code to use for the event indicated.
· SHIRTS - If registrant does not choose to run virtually or to defer/transfer, they may pick up their official race shirt at the Martinsville-Henry County YMCA at 3 Starling AV, Martinsville, VA, April 10-20, 2020.
· #LoveLikeLily 5K Memorial Walk - For entrants who registered for the #LoveLikeLily 5K Memorial walk or 5K Run using the LBP2020 discount code, you will be contacted by the organizers of that memorial endeavor regarding distribution of shirts and further activity. Please note that anyone registering for the Half Marathon using the LBP2020 discount code is eligible to receive the official half marathon race shirt through options above. Miles in Martinsville will fulfill its commitment to donate a portion of registration fees to Tackfully Teamed Riding Academy.
· ASSOCIATED ACTIVITIES – Please note that all associated activities, to include RUNNERS CONNECT: A Discussion For Runners – By Runners as well as the Race Day EXPO are cancelled.
The Hugh Gerlach Determination Award
"An award for people who overcome." The Martinsville-Henry County Family YMCA is proud to partner with the Elster Foundation to offer the The Hugh Gerlach Determination Award! This award is the brain child of Doug Goldstein who was diagnosed with colon cancer in 2009 and has undergone numerous surgeries and procedures. Doug, not satisfied with just surviving cancer, was determined to do what he loves... running.
Share your story and inspire others. Each year, Miles in Martinsville will recognize all nominees and pick one overall winner for the The Hugh Gerlach Determination Award. This award is announced during the awards ceremony at the annual Martinsville Half Marathon, 5K & Relay.
Do you have an incredible story to share or do you know someone that has overcome tremendous obstacles? We want to hear the stories of determination and inspiration. We want to hear about your challenges that you have had overcome to be the person you are today.
Inspire others -- share your story!
E-mail your nomination and their story to: brad@martinsvilleymca.com.
Contact Information
2019 Results
2018 ALL RESULTS
2017 Results
Virtual Runners are not in the results yet. They will be added Monday.
2016 Updated Results
Tentative results are posted. If you don't see your results (Jenny Smith I need your time) please e-mail me at Brad@martinsvilleymca.com.