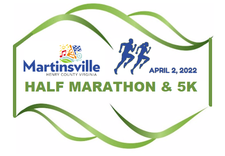 Join Us!

Route Map
Saturday, April 2, 2022, will mark the 12th running of the MARTINSVILLE HALF MARATHON & 5K. The Martinsville race courses present tough but fair challenges to joggers, walkers and competitive runners alike. Both races start and finish at the Martinsville-Henry County YMCA in uptown Martinsville.
The half marathon winds through scenic uptown Martinsville before entering the Uptown Connector Trail on its way to the community's iconic Dick & Willie Passage rail trail. Runners will then run the entirety of the Dick & Willie before retracing their steps through uptown on their return to the finish line at the YMCA.
5K participants run and walk the streets of Uptown Martinsville. With only a few gentle hills, the course presents a fast track for competitive runners and a scenic tour of the area for all.
Click the "ROUTE MAP" icon for details.
ONLINE REGISTRATION DEADLINE IS MIDNIGHT MARCH 30, 2022
· Register online by clicking the registration link on this page.
· Paper registration forms are available at link on this page and we recommend completed forms be delivered to YMCA by March 30. In-person registration will also be accepted at packet pickup at YMCA, from Noon-6 PM on Friday, April 1. There will be no in-person registration on race day.
PACKET PICKUP
· At YMCA, Friday, April 1, Noon–6:00 PM.
· At YMCA on race morning, 6:30 AM-7:30 AM
COVID-19 PROCEDURES WILL BE REQUIRED IN CONJUNCTION WITH CURRENT GUIDLINES.
· Runners & volunteers are encouraged to wear masks at packet pick-up.
· Runners will be required to sign waiver/statement regarding COVID issues.
· Masks are not currently required for spectators or runners but we recommend common sense social distancing and masking when in large groups.
· Runners are requested to avoid personal contact, spitting, snot rockets, slinging sweat or running in tight groups. Hey, we know that it's a race. Just try to give your competitors wide berth as you pass or get passed.
· Race will start as a single group and to reduce congestion, runners will be directed to line up based on expected race pace. Instructions to be given at start line prior to race.
· These protocols are subject to change based on government and institutional guidelines at the time
Miles in Martinsville encourages friends, family and area citizens to come to get out and support the competitors. There is plenty of parking available at various trailheads and in uptown parking lots.
Proceeds benefit programs of the YMCA.
VIRTUAL OPTION IS BACK FOR THE HALF MARATHON
· Register by March 27, 2021
· Run the Martinsville Half Marathon course by midnight, April 1, 2022. Submit documentation of your run by downloading data from your GPS watch platform and forwarding to Race Director, Brad Kinkema at brad@martinsvilleymca.com, by midnight, April 1, 2022.
· Race Director will compile results and make arrangements to get you your SWAG.
· Official gender specific tech fabric Half Marathon race shirt, finisher medal, and special finisher gift.