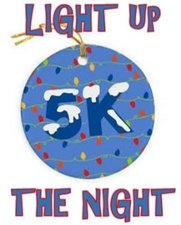 Route Map
Smith River Sports Complex.
Click on course map link for preview.
Start time - 4 PM.
The LIGHT UP THE NIGHT 5K is a fun kick off to the holiday season with many runners and walkers dressed in festive costumes. This event is a feature race for our Youth in Motion program. This program is designed to inspire young girls and boys to be joyful, healthy and confident using a fun, experience-based curriculum and creatively integrating running into their lives. The race will include the participation of a significant number of youngsters along with their coaches and mentors.
REGISTRATION DEADLINE IS MIDNIGHT DEC 8, 2021
· Due to COVID-19 protocols, no in-person registration will be accepted at packet pickup.
· Register online by clicking the registration link on this page.
· Paper registration forms are available at link on this page and completed forms must be delivered to YMCA by closing on Dec 8.
COVID-19 PROCEDURES WILL BE REQUIRED IN CONJUNCTION WITH CURRENT GUIDLINES.
These now include the following:
· Volunteers will wear masks and gloves at packet pick-up.
· Runners will be required to sign waiver and have no-contact temperature check to receive packet. Those with temp in excess of 100.4 F will not be allowed to run.
· Runners, volunteers, organizers and spectators are required to wear face masks and practice social distancing at all times when not running.
· There will be no post-race food served. Bottled water and sports drinks will be provided.
· Runners are requested to avoid personal contact, spitting, snot rockets, slinging sweat or running in tight groups. Hey, we know that it's a race. Just try to give your competitors wide berth as you pass or get passed.
· Race start will consist of waves (corrals) of socially distanced small groups of 10-12 runners every 15 seconds. Runners will self-seed into designated corrals based on expected race pace. Instructions to be given at start line prior to race
Miles in Martinsville encourages friends, family and area citizens to come to the SMITH RIVER SPORTS COMPLEX on December 11 to help us kick off the holiday season. Plenty of parking available.
Proceeds benefit programs of the YMCA.