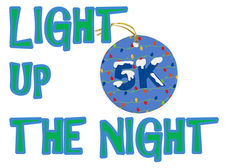 Route Map
The 2019 LIGHT UP THE NIGHT 5K - Saturday, December 7.
Lots of new stuff this year.
§ NEW LOGO – Check it out.
§ NEW COURSE – Join us at the Smith River Sports Complex for a new venue and a totally new 5K Course. Have a look by clicking on the Route Map link
§ NEW TIME – Start time will be 4 PM.
The LIGHT UP THE NIGHT 5K is a fun kick off to the holiday season with many runners and walkers dressed in festive costumes. The race is loaded with youngsters, enjoying an evening of fun and fellowship with parents and friends. This is also a big event for our local YOUTH IN MOTION program, which inspires young people to be joyful, healthy and confident using a fun, and exciting experience which creatively integrates running into their lives.
Miles in Martinsville encourages friends, family and area citizens to come to the SMITH RIVER SPORTS COMPLEX on December 7 and celebrate together by running, walking, watching, cheering, hugging and laughing with the decked out competitors. Plenty of parking available.
Proceeds benefit programs of the YMCA.