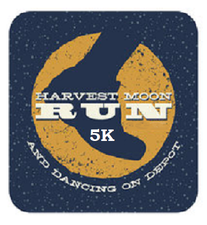 Route Map
Starting time is 6:30 PM.
The races start and finish at the Gazebo on Depot Street near the intersection of Franklin and Depot Streets. Runners will follow the Uptown Connection Trail to the Dick & Willie Passage Trail. They then run along the Dick & Willie Passage to a turn-around point, before returning to the finish. Click on COURSE MAP link to view.
This annual event is known for its fun and family atmosphere, often with kids carrying light sticks and runners wearing headlamps. The races will be followed with snacks, craft brews and music. This race is expected to attract a substantial crowd of runners and fans.
Participants may pick up their packets with race bibs on Friday, September 17 from Noon - 4:00 PM at the YMCA at 3 Starling Avenue; and from 5:00 PM - 6:45 PM at the Gazebo on Depot Street.
REGISTRATION DEADLINE IS MIDNIGHT SEPT 14, 2021
· Due to COVID-19 protocols, no in-person registration will be accepted at packet pickup.
· Register online by clicking the registration link on this page.
· Paper registration forms are available at link on this page and completed forms must be delivered to YMCA by closing on Sept 14.
COVID-19 PROCEDURES WILL BE REQUIRED IN CONJUNCTION WITH CURRENT GUIDLINES.
These now include the following:
· Volunteers will wear masks and gloves at packet pick-up.
· Runners will be required to sign waiver and have no-contact temperature check to receive packet. Those with temp in excess of 100.4 F will not be allowed to run.
· Runners, volunteers, organizers and spectators are required to wear face masks and practice social distancing at all times when not running.
· There will be no post-race food served. Bottled water and sports drinks will be provided.
· Runners are requested to avoid personal contact, spitting, snot rockets, slinging sweat or running in tight groups. Hey, we know that it's a race. Just try to give your competitors wide berth as you pass or get passed.
· Race start will consist of waves (corrals) of socially distanced small groups of 10-12 runners every 15 seconds. Runners will self-seed into designated corrals based on expected race pace. Instructions to be given at start line prior to race