Nail the Rail 9 Miler
Saturday, November 2, 2019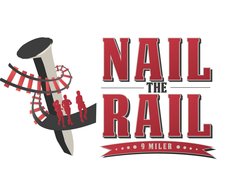 Nail the Rail 9 Miler
NEW DATE FOR NAIL THE RAIL 9 MILER
NOVEMBER 2, 2019
Due to continuing repair work being done to the Dick & Willie Passage Trail, the race course will not be available for our currently scheduled race date of June 8. Therefore, we are moving the date to November 2. It is our intent for future Nail the Rail 9 Milers to be held in the late October to early November time frame.
We regret the multiple date changes. However, the Henry County Parks & Recreation department discovered the trail damage to be extensive and the repair timetable to be longer than anticipated.
2019 Registration
2018 Results
Had 5 Nail the Rail today. First female, Kaitlyn Spangler Nailed the Rail at :58:14!!! Awesome job everyone! Virtual runners are added in!!!!
2016 NTR Results
What a great day.... COLD but great. Thanks for all those that came out.
Past Nail the Railers!
2015 Individuals that NAILED THE RAIL
Johnny Pickard
:52.12 Modified Challenge- Donated to have time lowered by 27 minutes
Susan Thacker
:58.01 Modified Challenge- Donated to have time lowered by 27 minutes
2016 Individuals that NAILED THE RAIL
2017 Individuals that NAILED THE RAIL
Patrick Woodford
:48.38 *Course Record
Ben Williams
:58.09
Virtual Run
Johnny Pinkard
:51.18 Modified Challenge- Donated to have time lowered by 27 minutes
Frank Finch
:55.04 Modified Challenge- Donated to have time lowered by 27 minutes
2017 Results
2015 Nail the Rail Results
JOIN US ON: