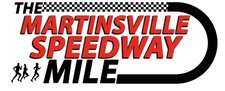 2019 Date is Set

Route Map
The Martinsville Speedway Mile is a salute to the historical allure of the one mile run. What runner isn't familiar with the first sub 4 minute mile run by Sir Roger Bannister. Typically, runners experience the one mile run only as part of a track meet. Most often at a high school or college track team event. This race is not run on a standard 400 meter track but rather at a unique venue.
Runners will negotiate two laps around one of America's iconic auto race tracks…The Martinsville Speedway. Built in 1947, the track continues 70 years later as a major stop on the NASCAR circuit, hosting the STP 500 and the First Data 500 Monster Energy Cup races.
The race(s) will be conducted in several categories. There will be Competition heats for men and women and Runner heats for men and women as well as a heat for children under 12 years of age.
We provide the following guidelines to help you choose the most appropriate heat for your registration:
Competition Men - Predicted time 6:30 or faster.
Competition Women - Predicted time 7:30 or faster.
Runner Men - Predicted time over 6:30.
Runner Women - Predicted time over 7:30.
Children Under 12 years old - All predicted times.
Awards will be given for top three overall Male/Female Winners in each category and for top three in Male/Female Age Groups (5 year increments beginning at 9 and under).
So…runners, get your speed on! Test yourself on the blazing fast pavement of the Martinsville Speedway. Join us for the 2nd Annual Martinsville Speedway Mile on August 17, 2019 at 9:00 AM.
Race Day Info!
Competition Heat to start promptly at 9:00 AM.

Runner Heat to follow at 9:20 AM

Awards Ceremony at 9:50 AM

Speedway access and Parking Map is attached

Runners and spectators should enter Speedway through 4th Turn Pit Tunnel at Gate 8