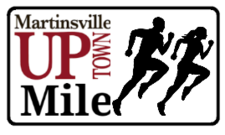 NEW VENUE- UpTown Martinsville 7:00pm race

Route Map
The UpTown Martinsville Mile is a salute to the historical allure of the one mile run. What runner isn't familiar with the first sub 4 minute mile run by Sir Roger Bannister. Typically, runners experience the one mile run only as part of a track meet. Most often at a high school or college track team event. This race will not be run on a standard 400 meter track but rather at a unique venue. The UpTown Martinsville Mile will be run on a two lap course around the streets of UpTown Martinsville.
REGISTRATION DEADLINE IS MIDNIGHT MAY 5, 2021
· Due to COVID-19 protocols, no in-person registration will be accepted at packet pickup.
· Register online by clicking the registration link on this page.
· Paper registration forms are available at link on this page and completed forms must be delivered to YMCA by closing on May 5.
COVID-19 PROCEDURES WILL BE REQUIRED IN CONJUNCTION WITH CURRENT GUIDLINES.
These now include the following:
· Volunteers will wear masks and gloves at packet pick-up.
· Runners will be required to sign waiver and have no-contact temperature check to receive packet. Those with temp in excess of 100.4 F will not be allowed to run.
· Runners, volunteers, organizers and spectators are required to wear face masks and practice social distancing at all times when not running.
· There will be no post-race food served. Bottled water and sports drinks will be provided.
· Runners are requested to avoid personal contact, spitting, snot rockets, slinging sweat or running in tight groups. Hey, we know that it's a race. Just try to give your competitors wide berth as you pass or get passed.
· Race start will consist of waves (corrals) of socially distanced small groups of 10-12 runners every 15 seconds. Runners will self-seed into designated corrals based on expected race pace. Instructions to be given at start line prior to race