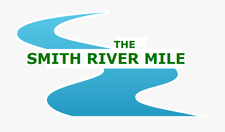 NEW VENUE- Smith River Sports Complex

Route Map
New for 2020!
The Martinsville Speedway Mile is now The Smith River Mile. Same date. Same distance. New name. New course.
August 15, 2020 @ 7:00 PM
The Smith River Mile is a salute to the historical allure of the one mile run. What runner isn't familiar with the first sub 4 minute mile run by Sir Roger Bannister. Typically, runners experience the one mile run only as part of a track meet. Most often at a high school or college track team event. This race will not be run on a standard 400 meter track but rather at a unique venue. The Smith River Mile will be run at the Smith River Sports Complex in Henry County. Course is one lap around soccer fields on concrete foot paths and asphalt surfaces.
Details on COVID-19 procedures, Heat assignments, Packet pick-up, etc. can be found by clicking on the FAQ button below.
NOTE – Due to COVID-19 issues, ONLINE REGISTRATION ONLY. Deadline Midnight, August 12, 2020. No Paper registrations will be accepted.