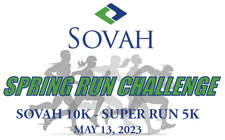 The Spring Run Challenge

Route Map
New for 2023
This event is presented by SOVAH Health-Martinsville. Two race options are offered.
§ SUPER RUN Youth 5K
§ SOVAH 10K Challenge
This is the Spring event for the local Youth in Motion program. This program is designed to inspire young girls and boys to be joyful, healthy and confident using a fun, experience-based curriculum and creatively integrating running into their lives. The races will include serious competitors of all ages and will include the participation of a significant number of youngsters along with their coaches and mentors.
The 5K is run on a familiar course starting and finishing at Susan Ln & Indian Trail and circling scenic Lake Lanier.
The 10K course is a new "out & back" course, skirting Lake Lanier to a turnaround point near the end of Country Club Drive.
Both courses feature rolling hills with lots of great Spring scenery. Challenging? Yes! Fair? Yes! Click on ROUTE MAP icon to view.