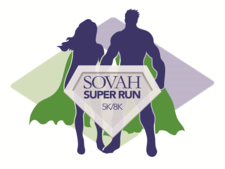 Route Map
The races start and finish at the corner of Susan Lane and Indian Trail, Martinsville. VA. Runners will follow a course that circles scenic Lake Lanier. Both races are run on area paved streets. A course map with details can be found at above link.
SOVAH Health, a long time Miles in Martinsville Title Sponsor, chose to support and focus on this race in particular. "Sovah Health is excited about this opportunity for many people to enjoy a healthy activity together that improves the well-being and overall health of our community. This directly impacts the hospital's mission of making communities healthier".
REGISTRATION DEADLINE IS MIDNIGHT MAY 5, 2021
· Due to COVID-19 protocols, no in-person registration will be accepted at packet pickup.
· Register online by clicking the registration link on this page.
· Paper registration forms are available at link on this page and completed forms must be delivered to YMCA by closing on May 5.
COVID-19 PROCEDURES WILL BE REQUIRED IN CONJUNCTION WITH CURRENT GUIDLINES.
These now include the following:
· Volunteers will wear masks and gloves at packet pick-up.
· Runners will be required to sign waiver and have no-contact temperature check to receive packet. Those with temp in excess of 100.4 F will not be allowed to run.
· Runners, volunteers, organizers and spectators are required to wear face masks and practice social distancing at all times when not running.
· There will be no post-race food served. Bottled water and sports drinks will be provided.
· Runners are requested to avoid personal contact, spitting, snot rockets, slinging sweat or running in tight groups. Hey, we know that it's a race. Just try to give your competitors wide berth as you pass or get passed.
· Race start will consist of waves (corrals) of socially distanced small groups of 10-12 runners every 15 seconds. Runners will self-seed into designated corrals based on expected race pace. Instructions to be given at start line prior to race