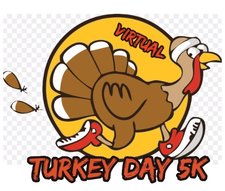 Route Map
Our TURKEY DAY 5K is going VIRTUAL for 2020.
Thanksgiving is so much about the tradition of returning to something familiar. Inherent in that celebration is families gathering from near and far to share thanks and to reconnect with roots. Our TURKEY DAY 5K has long mirrored that vibe. Families coming to the Martinsville-Henry County YMCA and celebrating together by running, watching, cheering, hugging and laughing all as a prelude to that big meal to be taken later. Friends who are not, nor have ever been runners, show up each Thanksgiving. We've run with their sons and daughters and their grandsons and granddaughters. It's been comforting to see these folks year after year.
Our tradition for this race is to gather at the YMCA on Thanksgiving morning. We run 5K through the streets of historic Uptown Martinsville. Then we gather as runners, family and friends to enjoy hugs, pumpkin pie, and the fellowship of the running community.
Unfortunately, 2020 has been the strangest of years for running, and for our world, nation and community. COVID-19 changed everything! Races cancelled. Races postponed. Races altered. Still, runners run!
Due to COVID-19, fewer people will travel. Family gatherings are likely to be smaller. And, the city is not issuing new event permits. We considered moving the Turkey Day 5K to a new date and/or a new venue but felt that the running community would be better served by a VIRTUAL event.
So this year we present the VIRTUAL TURKEY DAY 5K.
 You run your 5K between November 22 and November 29
 You choose the 5K course for your run. The official Miles in Martinsville TURKEY DAY 5K COURSE as shown at http://www.milesinmartinsville.com/races/turkey-day.cfm or any measured course in our town or yours. It just needs to be 5K.
 You document your run by downloading GPS data from watch or other device and send to Brad Kinkema, race director, at brad@martinsvilleymca.com by midnight, November 29. We will publish results. If you don't have a GPS device, no problem. Touch base with Brad and he'll work something out.
 You will receive the official 2020 VIRTUAL TURKEY DAY 5K shirt.
 You will receive the official finisher award. We will publish the results but there will be no overall winners or age group awards.
 You will receive a 50% discount offer for early registration entry into the 2021 Martinsville Half Marathon & 5K. Must register online at http://www.milesinmartinsville.com/races/martinsville-half-marathon.cfm by midnight, December 15, 2020.
Register online at http://www.milesinmartinsville.com/races/turkey-day.cfm by midnight, November 22. Choose pick-up option or mail option for receiving shirt and award. Registration fee for receiving items by pickup at Martinsville YMCA is $25. Registration fee for receiving items by mail is $30