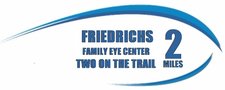 NEW for 2021

Route Map
Friedrichs Family Eye Center - TWO on the TRAIL
February 20, 2021 at 10 AM
Jack Dalton Park @ Henry County Administration Building
This new event is a two mile race on the smooth asphalt trail at Jack Dalton Park. The course will start and finish in the parking lot and include three laps around the trail. The course is relatively flat and presents an opportunity for runners to test their speed after winter base training.
REGISTRATION DEADLINE IS MIDNIGHT FEBRUARY 17, 2021
· Due to COVID-19 protocols, no in-person registration will be accepted at packet pickup.
· Register online by clicking the registration link on this page.
· Paper registration forms are available at link on this page and completed forms must be delivered to YMCA by closing on February 17.
Friends, family and fans are welcome at the Friedrichs Family Eye Center - TWO on the TRAIL.
COVID-19 PROCEDURES WILL BE REQUIRED IN CONJUNCTION WITH CURRENT GUIDLINES.
These now include the following:
· Volunteers will wear masks and gloves at packet pick-up.
· Runners will be required to sign waiver and have no-contact temperature check to receive packet. Those with temp in excess of 100.4 F will not be allowed to run.
· Runners, volunteers, organizers and spectators are required to wear face masks and practice social distancing at all times when not running.
· There will be no post-race food served. Bottled water and sports drinks will be provided.
· Runners are requested to avoid personal contact, spitting, snot rockets, slinging sweat or running in tight groups. Hey, we know that it's a race. Just try to give your competitors wide berth as you pass or get passed.
· Race start will consist of waves (corrals) of socially distanced small groups of 10-12 runners every 15 seconds. Runners will self-seed into designated corrals based on expected race pace. Instructions to be given at start line prior to race