Tuff Strutter 5K Trail Run at Rooster Walk
Sunday, May 28, 2017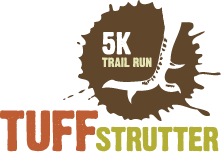 Stay the weekend or just come for the race! We are happy to partner with Rooster Walk for the Tuff Strutter 5K Trail Run !
The Tuff Strutter 5K Trail Run is a challenging, well-marked rugged course. This trail race takes place on Sunday, May 28, 2017 in conjunction with the Rooster Walk Music & Arts Festival. Join the fun and start your Sunday off right with a 3.1 mile run through beautiful festival grounds out at Pop's Farm in Axton, VA.
There will be an on-course aid-station, great race swag and delicious post-race food! Awards will be given for the top three male and female finishers as well as to the top male and female age-group finishers.
Don't forget to buy your Rooster Walk tickets! Visit www.RoosterWalk.com for more info!
Registration Open for 2017
JOIN US ON: